Home
The Shore Line Trolley Museum: Elevating the Collection
BUILDING CONSTRUCTION IS COMPLETE! Our project to safely store much of our collection in two new trolley car storage buildings above elevation 13 feet is rapidly coming to fruition. By mid January, the buildings were complete and the museum was literally "handed the keys" to our new home. As winter rolls on, we work diligently to raise the remaining funds to purchase and install the needed track and electric overhead wire. Meanwhile, our all-volunteer work parties have been laying the track inside the buildings - even during the winter! Your support enables us to do this. Thank you!
Follow along with our progress in the Elevating the Collection photo gallery as work continues. Learn more about Elevating the Collection below.
The Bricks Drive has offically closed. More information will be forthcoming about where the inscribed bricks will be placed. If you purchased a brick, Thank You for helping us Elevate the Collection!

If you are interested in offering continuing support to the Campaign to ensure that we can install the track to carry the trolleys to the safety of their new home please contact Jeff Hakner, Museum President at office[at]shorelinetrolley[dot]org.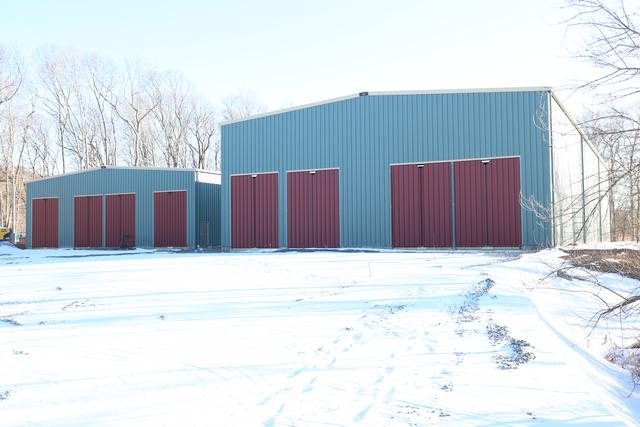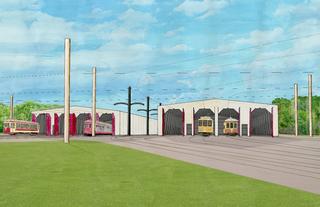 Elevating the Collection: The Campaign to preserve and protect the living heritage of the Shore Line Trolley Museum
The Shore Line Trolley Museum has been important to the spirit of historic preservation since 1945, and maintains the original operating trolley line which has connected East Haven and Branford since 1900. As the third largest trolley museum in the United States, it has been a key part of the East Haven and Branford communities for more than 65 years.
The Museum was founded to preserve the unique heritage of an endangered species -- the trolley car -- and interprets this through its collection of nearly 100 vintage vehicles.
The Museum's collection consists of a variety of passenger-carrying, electric streetcars as well as related vehicles such as railway maintenance cars, rapid transit cars, interurban cars, and electric and fossil-fuel buses. Antique vehicles from many parts of the country are represented, including several cars which actually ran on the Museum's historic line during the trolley's golden era.
To prevent catastrophic damage to the invaluable Shore Line Trolley Museum collection, we must immediately advance our plans to construct two buildings above the salt marsh floodplain. Because of the low elevation of most of the Museum property, most of our trolley cars are at risk of severe water damage from the frequent nor'easters and other major storms.
The campaign is named "Elevating the Collection" because not only will we build two trolley storage buildings at a higher elevation, but also to elevate the living heritage that this 'Made in the USA' collection embodies.
Our campaign will raise $2 million.
Did You Know That...
How many cars do you think are over 100 years old? Click here to find out and to read other interesting facts.
How Funds Will Be Spent
| | |
| --- | --- |
| Construction: Building 1 | $575,000 |
| Construction: Building 2 | $575,000 |
| Site Work and Erosion Prevention | $250,000 |
| New Rail Tracks and Landscaping | $350,000 |
| Administrative Costs* | $250,000 |
| Total | $2,000,000 |
*Architect, project management, campaign promotion